Message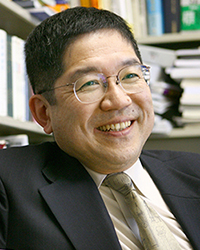 The Department of International and Business Law at Yokohama National University has a unique history. The department was established in 1990 as a masters' program without undergraduate departments or faculties, which was then, and still is, rather exceptional in Japan. In 1999, it was reorganized as part of the International Graduate School of Social Sciences along with the departments of economics and business administration to include doctoral programs. In 2004, the Juris Doctor program (law school) was created out of the existing faculty, and the Department of International and Business Law now co-exist with our Law School. Finally, in 2013, the department was reorganized into the current form as one of the three pillars supporting the Graduate School of International Social Sciences.

Since its inception, we have trained both Japanese and international students in law, political science and development studies. We recruit and support the most talented, resourceful and hard-working students, faculty and staff from around the world. Our graduates are also employed in various sectors around the world -- from Australia to Zimbabwe -- as highly skilled professionals in problem solving.

When we reorganized in 2013, one of the slogans was "Your future starts here." It is worth repeating the same message. We will help you starting your new future at our department.
ARAKI Ichiro
Dean
Head of the Department